Serving Madison And South Central Wisconsin
121 S Pinckney St Ste 550
Madison, WI 53703
Drunk Driving Defense Practice
How to Defend Drunk Driving
First and Foremost, Hire an Experienced OWI Attorney
You've been arrested for drunk driving, in Madison, WI, or surrounding Dane County. You're worried about losing your license and have so many questions. What should you do? Call Hurley Law Office, LLC. Immediately.
If you have been arrested for drunk driving (Operating While Intoxicated- OWI) in Wisconsin it is extremely important that you contact a lawyer right away.
License Suspension Process Can be Challenged If Done QUICKLY
Under Wisconsin law, drunk driving (OWI) charges trigger both (1) a Wisconsin DMV license suspension process and (2) a criminal court process. The DMV license suspension process runs separate from the criminal court process and offers the option of an Administrative Review hearing to challenge the automatic license suspension but we only have 10 days to request the DMV Administrative Review hearing. This hearing is the main opportunity available to save your license from an automatic suspension.
If you miss the window to challenge the suspension, the DMV will automatically suspend your license 30 days following your OWI arrest.
The Madison law firm Hurley Law Office, LLC has defended hundreds of drunk driving OWI cases throughout south central Wisconsin, from first offense to sixth offense and higher. While any charge of OWI is serious, it is especially so when it is a 2nd, 3rd, 4th or higher offense. The potential jail time increases as do the fines and time of license revocation. A felony OWI conviction carries even higher penalties.
How To Challenge OWI Charges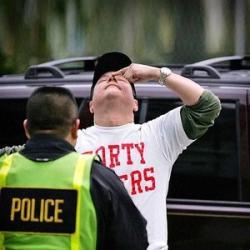 Driving under the influence cases are rarely hopeless. Law enforcement officers can bungle the initial stop, roadside investigations and arrests. Breath test and other blood alcohol tests are subject to error. Breathalyzer and other blood alcohol tests can provide false readings due to factors like medical conditions and some foods. At Hurley Law Office, LLC the skilled and experienced OWI attorney's know how to identify and use these issues to challenge findings or reduce the charge.
The Prosecution's OWI Case Often Has Errors or Flaws
Fighting OWI charges almost always makes more sense than pleading guilty for many reasons including:
Law enforcement officers are required to follow strict, standardized procedures, and often they fail to do so.
Breathalyzers can give false readings due to device malfunctions, medical issues or more than 100 substances that interfere with the chemical readings.
Testing the alcohol level in blood is difficult and prone to error. When retesting police blood samples, it is not unusual to find different results or that the blood was contaminated.
The Four Elements of a Prosecutor's DUI case
Prosecutors are required to establish guilt in their OWI case "beyond a reasonable doubt". This is the highest standard of proof under Wisconsin law. This strict legal standard is required for any alleged criminal charges and judges can dismiss any case that is not free of doubt. The four elements that prosecutors use to prove their case are:
Visual detection/Reasonable Suspicion: National Highway Traffic Safety Administration(NHTSA) research has identified 24 visual cues for police officers to detect impaired motorists including speeding, weaving out of lanes and ignoring traffic signs.
Physical signs and symptoms: Officer observations such as smell of alcohol, bloodshot eyes or difficulty walking are often easiest to discredit.
Field sobriety testing such as balance, physical ability or attention level.
Chemical breath and blood alcohol tests or refusal to take a test: Breath and blood tests in OWI cases can be discredited based on many factors and refusals are contested.
Upon taking you case, experienced OWI attorney Robert Hurley will work to identify any weaknesses in the four elements above to demonstrate a reasonable doubt in the prosecutor's case and work to get the case dismissed or amended to a lesser charge.
Attorney Hurley will carefully analyze the evidence including police reports, squad car and body-cam video, field sobriety and breath/blood test results and determine the best defense strategy with the highest probability of success including challenging the initial stop and field sobriety tests and subsequent arrest.
An OWI arrest is difficult, intimidating and sometimes scary. YOu don't have to face that intimidation alone, let experienced OWI attorney Robert Hurley help you. Call to set up a free consultation today.
Bob has helped me so much I couldn't thank him enough! He definitely is a man of his word. The charges I was facing required jail time and he made sure I didn't do time at all just like he promised. Very good lawyer and he cares about his clients.
Bob has helped my family with multiple issues, and each time I hired Bob he delivered exactly what he said he would. I would use Bob again and recommend him to anyone.
Hurley Law helped me fight an unfair traffic ticket. They got the fee reduced and zero points. Great work!
Great Result!!!
Attorney Hurley represented me in my OWI arrest and was able to get it dismissed! Very professional and he kept me updated about what was happening in my case. Highly recommended!!
Message Sent. Thank you for contacting us. We will be in touch with you shortly.
Send A New Message
Business Hours
Mon - Fri:

8:00am

-

6:00pm

Weekends:

By appointment
Contact
Hurley Law Office, LLC
121 S Pinckney St Ste 550
Professional Associations and Memberships
Wisconsin Association of Criminal Defense Lawyers
Wisconsin State Bar
United States District Court- Western District of Wisconsin
Dane County Criminal Defense Lawyers Association
Dane County Bar Association
© Hurley Law Office, LLC.

All rights reserved.
Please consult an attorney for advice about your individual situation. This site and its information is not legal advice, nor is it intended to be. Feel free to get in touch by electronic mail, letters, or phone calls. Contacting us does not create an attorney-client relationship. Until an attorney-client relationship is established, please withhold from sending any confidential information to us.