Serving Madison And South Central Wisconsin
121 S Pinckney St Ste 550
Madison, WI 53703
Criminal Defense Practice
Criminal Defense in Madison, WI
Criminal convictions stay on your record permanently, and they can come back to haunt you even years later. Past offenders routinely miss out on job opportunities because of mistakes they made years ago. Don't let a criminal conviction stand in your way—discuss your record with Robert Hurley when you need a criminal offense lawyer in Madison, WI. Hurley Law Office provides the legal counsel you need to move on with your life. Whether you're currently facing charges or you want to discuss your eligibility for expunging your record, Hurley Law Office is here for you.
Experienced Lawyer for Criminal Offenses
Criminal charges should not be taken lightly. Convictions are often financially and emotionally devastating, especially if the criminal offense warrants possible jail time. Consult with defense counsel Hurley when you need legal advice and representation. As your dedicated legal advocate, Attorney Hurley gives your case the attention it requires to achieve a more favorable outcome.
Protect Your Privacy -- Get a Past Criminal Record Expunged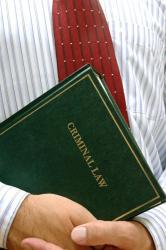 A criminal record can cost you opportunities including employment for which you are qualified. Your past mistakes should not restrict your ability to live a productive, prosperous life. If you want to determine your eligibility for sealing or expunging your record, Attorney Hurley is an experienced attorney you can trust. When your record is expunged:
The Record Is Not Publicly Available
You Do Not Have to Disclose It on Job Applications
You Do Not Have to Disclose It When Applying for Housing
Hurley Law Office is ready to assist you if you've been arrested for a crime. Take steps to protect your rights by consulting with Robert Hurley.
Contact Robert Hurley when you need to consult with a criminal offense lawyer or have your record expunged. Attorney Hurley proudly represent clients in Madison and surrounding communities in south central Wisconsin.
Bob has helped me so much I couldn't thank him enough! He definitely is a man of his word. The charges I was facing required jail time and he made sure I didn't do time at all just like he promised. Very good lawyer and he cares about his clients.
Bob has helped my family with multiple issues, and each time I hired Bob he delivered exactly what he said he would. I would use Bob again and recommend him to anyone.
Hurley Law helped me fight an unfair traffic ticket. They got the fee reduced and zero points. Great work!
Great Result!!!
Attorney Hurley represented me in my OWI arrest and was able to get it dismissed! Very professional and he kept me updated about what was happening in my case. Highly recommended!!
Message Sent. Thank you for contacting us. We will be in touch with you shortly.
Send A New Message
Business Hours
Mon - Fri:

8:00am

-

6:00pm

Weekends:

By appointment
Contact
Hurley Law Office, LLC
121 S Pinckney St Ste 550
Professional Associations and Memberships
Wisconsin Association of Criminal Defense Lawyers
Wisconsin State Bar
United States District Court- Western District of Wisconsin
Dane County Criminal Defense Lawyers Association
Dane County Bar Association
© Hurley Law Office, LLC.

All rights reserved.
Please consult an attorney for advice about your individual situation. This site and its information is not legal advice, nor is it intended to be. Feel free to get in touch by electronic mail, letters, or phone calls. Contacting us does not create an attorney-client relationship. Until an attorney-client relationship is established, please withhold from sending any confidential information to us.